Einstein Medical Center Malpractice Lawsuits
Einstein Medical Center Malpractice Claims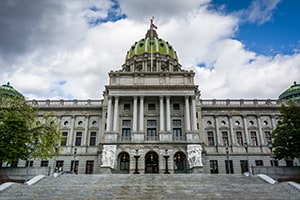 Einstein Medical Center is a nonprofit hospital located in North Philadelphia. Originally founded in 1864 as the Jewish Hospital of Philadelphia, Einstein Medical Center is now the 3rd largest hospital in Philadelphia. Einstein Medical Center has 772 beds and a level 1 trauma center. Einstein Medical Center is the flagship hospital of the Einstein Healthcare Network which includes the following hospitals:
Einstein Medical Center Philadelphia (North Philadelphia)
Einstein Medical Center Elkins Park (Montgomery County, PA)
Einstein Medical Center Montgomery (Montgomery County, PA)
Einstein does not enjoy the national prestige and recognition of other Philadelphia hospitals such as the Hospital of the University of Pennsylvania or Thomas Jefferson. This doesn't necessarily mean Einstein is a bad hospital it just may not get the same benefit of the doubt as Penn or other area hospitals that are nationally ranked with jurors in medical malpractice cases.
Einstein has been getting some recent attention in reducing C-section rates. This is all well and good but you certainly hope Einstein does not make this a part of their identity. A C-section is often necessary to save a child from death or significant birth injuries.
Venue for Einstein Malpractice Lawsuits
In Pennsylvania, all malpractice lawsuits must be filed in the court of common pleas for the county in which the medical malpractice is alleged to have occurred. This means malpractice suits against Einstein will be filed either in Philadelphia County or Montgomery County depending on which Einstein Health Network hospital is involved. Philadelphia County is widely recognized as a plaintiff-friendly jurisdiction. Montgomery County does not share this distinction.
Recent Malpractice Lawsuits & Verdicts
Williams v Einstein Healthcare (2019): 56-year-old male patient is admitted to EMC and dies a day later from oxygen deprivation resulting from a botched intubation in which the breathing tube was mistakenly inserted into the esophagus instead of the trachea. EMC quickly settles the wrongful death case for $3 million.
Gianni v. Einstein Medical Center (2017): an EMC surgeon was alleged to have negligently performed hernia surgery and damaging a nerve with a surgical tack. The case was tried in Philadelphia and the jury returned a verdict in favor of the defense.
Ivey v. Einstein Medical Center (2017): the patient had her gallbladder surgically removed at Einstein Medical Center. During physical therapy following the surgery, the patient complained of severe pain and the PT at the hospital recommended that she remain at EMC for another few days. Despite this recommendation the patient was discharged that same day and she later died. The lawsuit alleged that EMC and its doctors were negligent in discharging the patient too early and failing to recognize her post-surgical complications. A Philadelphia jury awarded $5 million.
Smith v. Einstein Medical Center (2017): suit alleging the EMC provided negligent care to a patient and failed to prevent deterioration of her pressure ulcer that eventually resulted in her death. The case is scheduled for trial later this year.
Berkelback v. Einstein Medical Center (2017): this was a malpractice action against EMC and a nursing home after a patient died from taking an antibiotic that caused severe damage to his kidneys. The suit alleged that EMC was negligent in failing to advise the nursing home of the patient's history of kidney problems and failing to warn the nursing home of the need to monitor the patient. The jury found EMC 15% negligent and the nursing home 85% negligent and awarded $275,000.
Mendell v. Williams (2015): the patient underwent back surgery at EMC. After the surgery, she developed an infection in her surgical wound. She was transported to a small local hospital near her house and approved for immediate transfer to Einstein Medical Center. She was not transferred to EMC for 18 hours, however, due to a shortage of available beds at the hospital. By the time she was treated at EMC it was too late and the infection had caused permanent damage to her spine and put the plaintiff in a wheelchair for the rest of her life. EMC and the 2 doctors were each found equally at fault and the jury awarded $4.8 million.
Bowser v. Einstein Medical Center (2013): EMC and its doctors were accused of botching the patient's stomach surgery (gastrectomy) leaving her with chronic vomiting and unable to tolerate food. A jury in Philadelphia County found the hospital liable and awarded $730,000.
Contact Us About Einstein Medical Center Malpractice
If you or someone you know may have a claim for a birth injury or malpractice against Einstein Medical Center or another Einstein Health Network hospital call Miller & Zois at 800-553-8082 or get a free online consultation.