Pennsylvania Hospital Medical Malpractice Claims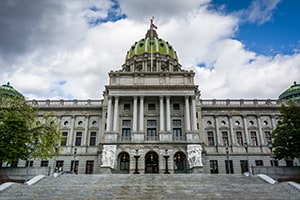 Children's Hospital of Philadelphia is one of the oldest hospitals devoted exclusively to pediatric care. Originally founded in 1855, CHOP's main hospital complex is located in the University City section of Philadelphia with 500 beds. Children's Hospital of Philadelphia has a solid reputation but does not enjoy the same national prestige as other pediatric hospitals. Children's Hospital of Philadelphia is now a regional health care company with outpatient and urgent care centers across the Philadelphia metropolitan region. CHOP has 3 Urgent Care facilities all of which provide 24-hour walk-in care.
CHOP also has 31 primary pediatric care offices under its corporate network. There are 17 Specialty Care locations affiliated with Children's Hospital of Philadelphia. Finally, CHOP has "community hospital alliances" at various regional hospitals. For example, there is a CHOP Pediatric Care at Abington Memorial Hospital; a CHOP Newborn & Emergency Care at St. Mary Medical Center and 15 other affiliations. It is not entirely clear, however, whether the CHOP health network has actual ownership or management interest in these affiliate hospitals. For instance, suppose a malpractice claim arose out of the CHOP Pediatric Care at AtlantiCare Hospital in Atlantic City, NJ. The primary defendant in that malpractice lawsuit would be AtlantiCare Hospital and its doctors. CHOP might not be a defendant or party to that action at all.
Venue for Malpractice Actions Against CHOP
Pennsylvania has restricted venue rules for medical malpractice actions which means you can only file suit in the county where the alleged malpractice actually occurred. So if the malpractice actually occurred at the CHOP main hospital in Philadelphia then the Court of Common Pleas for Philadelphia County would be the only available venue. If the malpractice took place at one of the CHOP urgent care facilities then venue would be based on the location of the facility involved. So if the malpractice took place at CHOP Urgent Care - Bucks County, the venue would be Bucks County. The 31 primary care offices under the CHOP network are located in both PA and NJ so the venue rules would be different if the malpractice claims involve one of the NJ offices.
Defense Counsel for CHOP
Most medical malpractice cases against Children's Hospital of Philadelphia are defended by Andrew Susko and other attorneys at the Philadelphia law firm of White & Williams LLP. Benjamin Post at Post & Post has defended CHOP in several cases also.
Recent CHOP Malpractice Cases, Verdicts & Settlements
Summarized below are several recent malpractice cases filed against Children's Hospital of Philadelphia as well as recently reported verdicts & settlements involving CHOP. The verdicts and settlements are summarized for informational purposes only because every case is different and these summaries should be used to value your own unique case.
VITO v. LIN, et al. (2015 - Philadelphia): This malpractice case was filed against CHOP and one of its doctors following the sad death of 3-month-old in the pediatric ICU at the main CHOP hospital in Philadelphia. The complaint alleges that CHOP and its staff negligently failed to properly diagnose and treat the child's hypoxia and avoid the respiratory collapse that caused his death. The case is still currently pending and scheduled for trial in the fall of 2018.
MINOR v. SARANBIR R AHUJA, MD (2016 - Bucks County, PA): This case involves malpractice that allegedly occurred in one of CHOP's primary pediatric care offices in Bucks County. The suit claims that the CHOP primary care doctors failed to timely diagnose the child's cancer. The case is currently pending.
TILLERY v. CHILDREN'S HOSPITAL OF PHILADELPHIA (2016 - Philadelphia) - $10 million verdict: 11-month old patient was taken to CHOP numerous times with symptoms including high fever, rapid heart rate, and respiratory difficulties. On the initial visits, the child was diagnosed with bronchiolitis (a minor respiratory infection) and sent home with an inhaler and antibiotics. The child was back in the CHOP emergency room the following day at which time blood work and a spinal tap confirmed that he had bacterial meningitis. By that time the infection had already caused permanent hearing loss and brain damage. The jury found the hospital 60% at fault and the doctor 40% at fault and awarded $10.1 million in damages.
Contact Children's Hospital of Philadelphia Malpractice Lawyers
If you think you may have a medical malpractice claim against CHOP Hospital, CHOP Urgent Care or a CHOP primary care office, contact the medical malpractice attorneys at Miller & Zois for a free evaluation of your case. Call us at 800-553-8082 or click here for a free online consultation.