Virginia Auto Accident Cases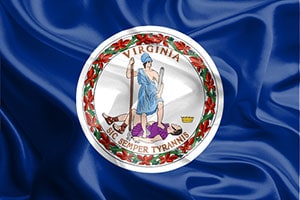 Virginia is the 35th largest geographical state in the U.S. with over 42,000 square miles within its territory, but it is one of the largest states on the east coast and the 2nd biggest state in the Mid-Atlantic region. Within this large territory is sweeping, diverse range of geography extended from the coastal plains of the Chesapeake tidewater region in the east to the elevated hills of the Blue Ridge Mountains in the west.
The 70,000 miles of roads and highways which connect Virginia's large territory are also highly diverse in nature. Northern Virginia, which includes the Washington DC metropolitan area, has the southern half of the DC Beltway and tangle web of other high volume highways and roads connecting the state to the Capital City across the Potomac. Northern Virginia is notorious for traffic gridlock and the DC area has the 2nd worst traffic congestion in the entire nation. By contrast, traffic on the rest of Virginia's roadways is comparatively light. Despite the traffic conditions in Northern Virginia, the state as a whole ranks with the 21st best traffic conditions in the U.S.
Another unique aspect of Virginia's highway system is that road maintenance, ownership and authority is highly centralized. In many states, such as Pennsylvania and New Jersey, responsibility for roads is delegated to local counties or townships. This means that each locality is tasked with maintaining the roads within its own borders. In Virginia, however, about 80% of the 70k miles of road are owned and maintained at the state level by the Virginia Department of Transportation. As a result VDOT oversees the 3rd biggest state highway system in the entire country. This centralization has resulted in very well maintained roads and highways.
Virginia Auto Accident Statistics
There are just over 6 million licensed drivers in the Commonwealth of Virginia and 8.2 million vehicles registered in the state. On average there are about 125,000 police-reported auto accidents in the state on an annual basis. Approximately half of these accidents involve some type of physical injuries to drivers or passengers. In 2017 a total of 843 were killed in accidents on Virginia's roadways, a slight increased over the declining state average of 725.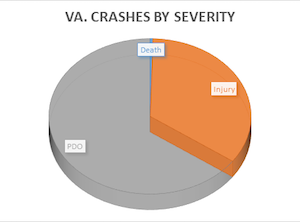 Almost all of the 843 traffic fatalities in Virginia in 2017 involved alcohol, excessive speeds, or lack of seat-belts. Out of the 843 fatalities 608 were drivers, 121 were passengers and the remaining 114 were pedestrians. Alcohol-related auto accident fatalities totaled 248 while speeding and not using seat-belts accounted for another 626. Virginia's death rate per 1,000 is only 0.14 which is very good. The most dangerous counties in 2017 were Amelia County and Buckingham County which each had 7 fatalities resulting in death rates just under 0.70.
Virginia Car Accident & Insurance Laws
Like all states, car accidents in Virginia are governed by a combination of traffic law (stopping, speeding, right-of-way, etc.); insurance law; and tort law (negligence). A brief summary of these applicable laws in Virginia is outlined below.
At-Fault Rule
Unlike many other states which have adopted "no-fault" rules for car insurance coverage, Virginia continues to be a pure "at-fault" state for auto accidents. This means that when an auto accident occurs the at-fault driver's insurance will always have primary responsibility for covering the damages. Drivers only get coverage by their own insurance if the at-fault driver is uninsured or underinsured. This makes the determination of fault in an accident very important in Virginia, even for minor damages.
Statute of Limitations
In Virginia the statute of limitations for claims involving personal injury or death resulting from an auto accident is 2-years. Va. Code § 8.01-243. For cases involving injuries only the 2 year limitation period begins to run on the date the accident occurs. For auto accident claims involving death the 2-years begins to run from the date of death. Accident claims involving property damage only are subject to a longer 5-year statute of limitations in Virginia.
Contributory Negligence
Virginia is among the small handful of states that continue to follow the rule of contributory negligence in auto accident and other tort cases involving mutual degrees of fault. This rule basically says that a plaintiff cannot recover damages for an auto accident unless the other driver is found to be 100% at fault for the accident.
Virginia Car Accident Settlements & Verdicts
Below are recent jury verdicts and reported settlements for auto tort cases in Virginia which should provide some idea of how much Virginia auto accident cases can be worth.
Marks v Patterson (Virginia 2018) $15,000: plaintiff is on 265 in Norfolk when he takes the off ramp for St. Paul's Blvd and stops at the red light at the end of the ramp. Defendant takes the same off ramp and rear-ends him at the light causing unspecific soft-tissue injuries. Jury awards $15k in damages.
GEICO v A.B. (Virginia 2018) $25,000: minor plaintiff is a passenger in his mother's car when she is involved in an accident with defendant on Tidewater Drive in Norfolk. Minor alleges various soft tissue injuries as a result of the accident but defendant's insurer, GEICO, initially denies liability. GEICO eventually offers to settle the claims for $25,000 which is accepted.
Williams v Copeland (Virginia 2018) $25,000: middle aged female is driving on the highway when her vehicle is struck in a multi-car pileup caused by defendant. She allegedly suffers mild cervical and lumbar strains and right knee, elbow, wrist and hand contusions. Liability is admitted and the case goes to trial on damages. The jury awards $25k to plaintiff.
State Farm v B.P. (Virginia 2018) $100,000: plaintiff-mother is driving with her minor daughter on Jefferson Ave in Newport News when she is struck by defendant. Her daughter suffers fairly significant injuries and she sues the other driver on her behalf. The at-fault driver's insurance company, State Farm, agrees to settle for $100,000.
GEICO v Sjostrom (Virginia 2018) $50,000: decedent is driving a rental car at the intersection of Military Highway and Eagle Avenue in Chesapeake when she is struck and ultimately killed by defendant. Her survivors bring a wrongful death action against defendant and uninsured motorist claims against the rental car insurance company. Both insurers settle for policy limits of $25,000 for a total of $50,000.
Progressive v A.O. (Virginia 2018) $125,000: mother is riding her bike in Virginia Beach with her young daughter riding behind in a bike-trailer for kids. Defendant driver hits the bike trailer causing the daughter to suffer fairly significant injuries. Fault for the accident is not in dispute and defendant's insurer, Progressive, agrees to settle the claim for $125,000.
Contact Miller & Zois About Your Virginia Car Accident Case
If you have a car accident claim or lawsuit in Virginia the accident lawyers at Miller & Zois can help get you the best possible results. Call us at 800-553-8082 or get a free consultation online.