Car Accident Claims in Washington DC
Washington, DC is a uniquely urban jurisdiction. Unlike the regular 50 states which have large geographic territories including both country roads and large cities, DC is a separate legal jurisdiction comprised of just a single, densely populated urban area. There nearly half a million registered drivers in Washington, DC according to data from the DC Department of Motor Vehicles. But this only includes the drivers who actually live in the city. Every day millions of drivers commute into and out of DC from the suburbs of Virginia and Maryland. On top of this are the thousands of daily tourists that come to visit the nation's capital. An estimated 20 million people a year come to Washington DC as sightseeing tourists.
Given the number of cars, tour buses and other vehicles going into, out of and around Washington DC on a daily basis it is hardly surprising that there are a lot of car accidents in DC. This page will look at: (1) DC car accident statistics; (2) DC car accident and insurance laws; and (3) recent settlements and verdicts for DC car accident cases.
DC Car Accident Statistics
As mentioned above, there are around 450,000 licensed drivers living in Washington DC and roughly 4 million registered vehicles in the DC metropolitan area (which includes DC and the surrounding suburbs in Maryland & Virginia). Each year there is an average of about 22,000 reported auto collisions within the Washington DC boundaries. Approximately 5,900 of these collisions involve serious physical injuries to drivers or occupants. Only about 25 of the annual auto accidents in Washington DC involve fatalities. The graph below displays the severity of car accidents in Washington DC: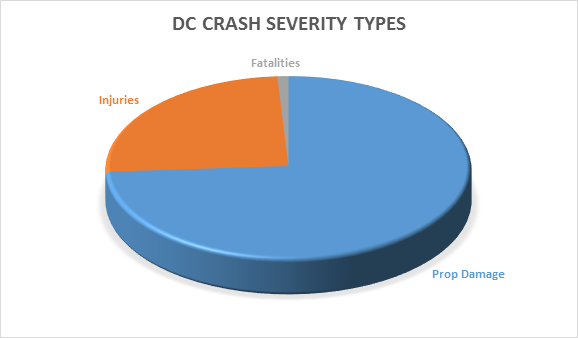 The total number of car accidents in Washington, DC has been steadily trending upwards over the last 10 years. The number of drivers and passengers injured in DC car accidents has also seen a steady increase over the same period. However, the number of auto accident fatalities in DC has been on a very steady decline. In 2007 there were 54 auto accident fatalities in DC, the highest number ever. That is nearly double the current average. A very similar downward trend has also been seen in the most serious type of "disabling" injuries in DC car accidents. In terms of when car accidents tend to occur in DC, it is not surprising that the highest percentage of accidents occur during the work week with the Friday evening commute being the most accident-prone of all time frames. The months when the most accidents occur are May and October.
Washington DC Car Accident Law
Washington DC is just like any other state in that it has its own separate laws and regulations that apply within the boundaries of DC. Just like in every other state DC has 2 separate sections of the law that are applicable to auto accidents: (1) rules of the road which govern traffic (e.g., stopping, turning, yielding, right-of-way); and (2) laws governing insurance and financial responsibility for car accidents. Below is a summary outline of all of the key laws in Washington DC regarding car accidents, insurance, and financial liability.
No Fault System

Washington DC has an optional "no-fault" system for auto accident insurance claims. This means that if you are in an accident you can elect to have your damages covered by your own insurance regardless of who is at fault for the accident. DC law gives you 60 days after the accident to decide whether to file a no-fault claim or to pursue a claim against the at-fault driver's insurance. No-fault claims are usually made by drivers who were responsible for the accident or if the damages are very limited. Once a no-fault claim is elected you cannot pursue another claim against the at-fault driver except under very limited circumstances.

For accidents involving physical injuries pursuing a claim against the at-fault driver is always the preferred option.

Contributory Negligence

Washington DC is one of the few jurisdictions that continue to apply the very strict legal rule known as "contributory negligence." The rule basically states that even if someone is not technically "at-fault" for an accident - if their actions contribute to the accident in any way (even if they are only 5% responsible) - they supposed to be legally barred from recovering any damages.

For example, let's say Driver A runs a red light and hits Driver B. If Driver B was speeding through the intersection and therefore found to be 2% at fault for the accident he would be legally precluded from recovering ANY damages from Driver A.

Statute of Limitations

DC has a general 3-year statute of limitations period that applies to car accidents. The 3 year limitation period begins to run on the date the accident occurs. This means that if you are injured in a car accident and the other driver is at fault, you must file a claim or lawsuit against the at-fault driver within 3 years. If you fail to file your lawsuit before the 3 year period expires you will be legally barred from bringing it.

One important exception to this 3-year limitation rule applies to accidents in which the at-fault driver is a government employee or agent. If you plan to pursue a claim against a government driver you will need to send notice within 6 months of the accident or your claim might be barred.

Recoverable Damages

The law in Washington DC does not impose any special limitations of the type or amount of personal injury damages that plaintiffs can recover in a car accident case. Under DC law car accident victims who bring successful legal claims against at-fault drivers are legally entitled to recover damages for the following losses:

Property Damage
Lost Income
Medical Expenses
Pain & suffering
Washington DC Car Accident Settlements & Verdicts
Below are recently verdicts and reported settlements from Washington DC car accidents cases. These cases are provided for informational purposes only, to give examples of the types of injuries and associated legal damages awarded in DC auto accident cases.
Williams v. Mise (D.C. 2022) $60,000: plaintiff, 47-year-old female, was driving near an intersection when a commercial truck driven by the defendant swerved into oncoming traffic and struck another vehicle which then struck the plaintiff's vehicle. Plaintiff claimed various injuries to her left leg and foot, lower back and shoulders.
Jones v. Ashby (D.C. 2022) $23,000: the plaintiff was traveling on a road in northwest when the defendant, who was traveling in the opposite direction, allegedly crossed over the roadway's centerline into oncoming traffic and struck the plaintiff head on. The plaintiff alleged soft tissue injuries to his neck, back, arms, and legs.
Prince v. Tomasula (D.C. 2021) $29,540: A married couple was rear-ended on Maine Avenue. The husband sprained his lower back. He underwent orthopedic treatments for five months. The man experienced residual back pain. His wife suffered a concussion, headaches, dizziness, vertigo, and spinal sprains. She underwent orthopedic treatments for seven months. The woman experienced residual spinal pain. The couple alleged negligence against the at-fault driver. They claimed he unsafely operated his vehicle. The jury awarded $29,540.
Freeman v. Wiedenfeld (D.C. 2021) $85,000: A 79-year-old man was rear-ended on Massachusetts Avenue. He suffered a torn shoulder, impingement, and spinal sprains. The man underwent physical therapy and a shoulder arthroscopy. He wore a sling for several months. The man experienced difficulty with housework. He could no longer enjoy working out. The man alleged negligence against the at-fault driver. He claimed he failed to maintain an appropriate lookout. The jury awarded $85,000.
Wood v. Dulic (D.C. 2020) $100,000: A 60-something man was rear-ended on I-295. He suffered a concussion and neuromuscular injuries. The man underwent six months of physical therapy. He alleged negligence against the at-fault driver. The man claimed he failed to slow down. A jury awarded $100,000.
Jeffers v. Allstate (D.C. 2019) $29,540: Two 30-somethings, a man and a woman, were rear-ended on Call Place in Southeast D.C. The at-fault driver fled the scene. The two suffered spinal sprains and strains. They both underwent chiropractic therapy for five weeks. The two made UIM claims against Allstate. The jury awarded $29,540.
Wynn v. MAIF (D.C. 2019) $63,000: Two 20-something women were rear-ended at the intersection of Naylor Road and Altamont Place. The at-fault driver left the scene. The two suffered spinal sprains and strains. They underwent 10 weeks of physical therapy. The two made UIM claims against MAIF. A jury awarded $63,000.
Tovar v. Hayden (D.C. 2018) $3.7 million: Plaintiff came to a stop for a red light at the intersection of New York Ave and First Ave. When he stopped for the light the defendant slammed into him from behind. Plaintiff was severely injured in the collision and sued the defendant and his employer alleging permanent brain injuries that would leave him unable to work. Defendant admitted liability but disputed the extent of plaintiff's alleged damages. After a short jury trial plaintiff was awarded $500,000 for pain and suffering and a staggering $3.2 million for lost past and future earning plus medical expenses.
Edwards v. Keifer (D.C. 2018) $996,000: Plaintiff was stopped for a red traffic light at the intersection of R Street and Rhode Island Avenue in Northwest DC when the defendant allegedly rear-ended him. Plaintiff sued to claim significant injuries to his back and neck. The defendant denied both liability and damages but the jury was not persuaded and awarded total damages of just under $1 million.
Edie v. Salter (D.C. 2018) $5,230: plaintiff contended that the defendant's vehicle was struck by another automobile when the defendant attempted to execute a left turn at an intersection. She claimed various soft tissue injuries to her back including disc herniations. The defense strongly disputed the severity of her alleged injuries and the jury only ended up awarding the small amount of $5,235.90.
Cary v. Wooden (D.C. 2017) $25,000: Plaintiff was driving on C Street in NE when he was rear-ended by the defendant. Plaintiff alleged typical non-permanent auto accident injuries to his back and neck. The defense claimed that the plaintiff shared some fault for the accident and asserted a defense of contributory negligence. The defense also contested the extent of the alleged damages. The jury disagreed and ultimately awarded the plaintiff total damages of $25,000.
Ghawazzi v. Nicolosi (D.C. 2017) $350,000: plaintiff was driving east on C Street SE when he attempted a legal U-turn in order to park on the north side of the street. The defendant allegedly attempted to deliberately block the plaintiff from making the turn and then tried to aggressively pass him and ended up side-swiping his car. Defendant then got out and apparently assaulted the plaintiff both verbally and physically. Although plaintiff's injuries were minimal he was awarded damages of $350,000 following a bench trial.
Contact Miller & Zois About DC Car Accident Claims
Miller & Zois is one of the personal injury firms in the Mid-Atlantic region and we have a history of proven success representing victims of auto accidents in Washington DC. If you have been injured in a Washington DC auto accident contact us for a free consultation. Call our office at 800-553-8082 or click here for a free consultation.