Washington Hospital Center - Medical Malpractice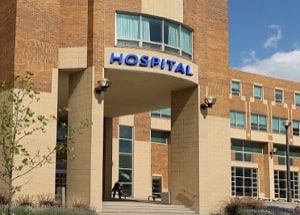 Washington Hospital Center is one of the largest and most prominent hospitals in Washington D.C. It is now owned and operated by MedStar Health and official named MedStar Washington Hospital Center. This page will look at the Washington Hospital Center facility and the MedStar Health system and their current and prior history of medical malpractice cases.
MedStar Washington Hospital Center
MedStar Washington Hospital Center is a not-for-profit hospital located just north of Howard University campus in Northwest:
MedStar Washington Hospital Center
110 Irving St, NW
Washington, DC 20010
The 42 acre campus of the Washington Hospital Center in Northwest is bordered by Irving St and Michigan Ave and is shared by 2 other hospital facilities: National Rehabilitation Hospital and Children's National Medical Center (central branch).
At 912 staffed beds MedStar Washington Hospital Center is the largest hospital in the District of Columbia and the second largest hospital in the greater Washington DC metropolitan area (Inova Fairfax being the largest). It has one of the largest graduate medical residents annually, and is a medical education and clinical partner of Georgetown University School of Medicine. MedStar Washington Hospital has over 5000 professionals and staff in the hospital. In 2018, they had 36,233 inpatient admissions, 396,168 outpatient visits, about 21,000 inpatient and outpatient surgeries, and 3,675 births.
Washington Hospital Center was originally founded in 1958 after the merger of Garfield Hospital with 2 specialty hospitals: Central Dispensary and Emergency Center; Episcopal Eye, Ear, and Throat Hospital. In 1987 Washington Hospital Center was the site of one of the very first heart transplant procedures in the region and it continues to be a nationally recognized leader in the field of cardiovascular research and treatment. It is the only hospital in the DC region with a Cardiac CT scanner and a 24 hour cardiac catheterization team. This has enabled Washington Hospital Center to perform the largest number of cardiac catheterization / angioplasty procedures of any hospital in the country.
MedStar Health
MedStar is a not-for-profit health system that provides services to people in Maryland, Virginia, and Washington, D.C area. MedStar's corporate headquarters is in Columbia, MD. MedStar currently operates 10 hospitals, ambulatory care and urgent care centers in DC, Maryland and Virginia including Washington Hospital Center. The following is a list of MedStar Health affiliated hospitals.
MedStar Georgetown University Hospital
MedStar National Rehabilitation Network
MedStar Southern Maryland Hospital
MedStar St. Mary's Hospital
MedStar Washington Hospital Center
In 2017, MedStar hospitals and health care facilities had a total of 176,561 inpatient admissions and 4 million outpatient visits. With such a large volume of patients, MedStar and its hospitals are routinely involved in claims of medical negligence and malpractice. Does MedStar have the best hospitals in the Maryland/D.C. area? Absolutely not (although Georgetown really is good hospital that might be even better than the rankings suggest). But MedStar is also not awful. These hospitals, taken as a whole, we think are pretty average. Which means they have great doctors and nurses and awful doctors and nurses. They also have good doctors and nurses who just made a terrible mistake that leads (or should have led) to a malpractice case.
Washington Hospital Center Medical Malpractice Cases
MedStar Washington Hospital Center is a large, high-volume, urban hospital in the nation's capital. Cardiovascular surgery and labor and delivery are 2 of the medical specialty fields with the highest rates of medical malpractice and this is exactly what happens to most at Washington Medical Center. Washington Hospital Center does more cardiovascular procedures and surgeries than almost any hospital in the entire country and delivers more babies (about 3,000-4,000 a year) than any other hospital in D.C. It is also important to point out that Washington Hospital has a very well-respected in cardiology, ranked by some in the top 50 in the country.
Washington Hospital Center is invariably involved in medical malpractice lawsuits on a regular basis. Although we don't have any reliable comparative data, we think MedStar Washington Hospital Center gets sued for malpractice more than any other hospital in D.C. This does not necessarily mean that Washington Hospital Center is a terrible hospital. It is probably in the top five or six hospitals in the D.C. metro area. Which means that it is mostly an average hospital. What goes on in the average hospital? A lot of medical malpractice.
Washington Hospital Center Verdicts and Settlements
Below are several verdicts and settlements from medical malpractice cases against MedStar Washington Hospital Center. Like most hospital systems, MedStar has a tendency to settle legitimate malpractice cases quickly to avoid negative attention. The terms and amounts of these out-of-court settlements are almost always confidential. As a result of this policy, few malpractice cases against Washington Hospital Center end up getting publicly reported and settlement amounts are never disclosed.
Jordan v Washington Hospital Center (D.C. 2016) undisclosed: patient has surgery at Washington Hospital Center to remove a ruptured appendix. Following surgery she is taken off antibiotics and ends up getting post-operative infection which requires additional corrective surgery to remove infected tissue. She sues hospital for malpractice claiming that she was prematurely taken off the antibiotics after the surgery. Washington Hospital Center is defended by Rockville, MD firm of Gleason, Flynn, Emig & Fogleman. They settle the case for an undisclosed amount.
Bigelow v Washington Hospital Center (D.C. 2014) undisclosed: female patient in her mid-70s presents at emergency room at Washington Hospital Center with chest pains and cardiac symptoms. While in the emergency room she suffers cardiac arrest and has to be resuscitated. An ACID defibrillator is implanted and a bone marrow biopsy is performed but she experiences complications with the procedures which result in acute renal kidney failure and she dies. Her husband sues the hospital and various doctors for medical malpractice. Washington Hospital Center quickly agrees to settle the claims against and is dismissed out of the case. The amount of the settlement with hospital is not disclosed.
Hanan v. Washington Hospital (D.C. 2006) $680,000: a 68-year-old female plaintiff suffers damaged vocal cords that resulted in respiratory dysfunction after bypass surgery was performed at Washington Hospital Center. She sues alleging that the hospital and agents were negligent in failing to timely and properly remove her endotracheal tube after surgery which breached the proper standard of care. The hospital denied any wrongdoing. The jury awards the plaintiff $680,000.
Weise v. Washington Hospital (D.C 2005) $17 million: a 28-year-old female suffers an emergency hysterectomy, pelvic nerve damage, bladder and ureter damage, a kidney infection and posttraumatic stress syndrome as a result of the delivery of her first child by a caesarean section performed by resident at Washington Hospital Center. Plaintiff alleges that hospital's doctor negligent made incisions into the plaintiff's bladder and vaginal wall instead of the uterus and then incorrectly stitched up her uterus in an effort to repair the inadvertent injuries, resulting in chronic pain and permanent reproductive impairment. Jury awards $17,420,174.
Goodell, DeVries, Leech and Dann defends many of the claims against MedStar Washington Hospital Center. In 2018, the last trial this hospital had at the time of this writing, was a non-malpractice case where a guard allegedly injured a visitor to the hospital who was caught smoking in the hospital. Not surprisingly, the jury found for the hospital.
Contact Miller & Zois about MedStar Washington Hospital Malpractice
If you have a potential medical malpractice claim against MedStar Washington Hospital Center, the malpractice attorneys at Miller & Zois can help you achieve the best possible results in your case. Call us at 800-553-8082 or contact us online.