West Virginia Birth Injuries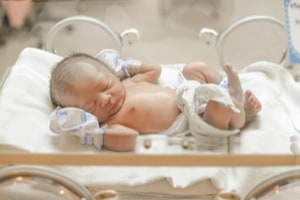 Birth injury is a harm or impairment of an infant because of an event that occurs during or near the time of birth. The facts for each birth injury can differ greatly, but generally they arise as a result of an avoidable mistake by health care providers. Although some birth injuries can be minor, others can result in permanent disabilities, affecting the child's cognitive and or/physical function. Many birth injuries can be avertible if healthcare providers follow standards of care such as monitoring health status of the fetus and addressing any abnormalities. West Virginia, like other states, recognizes the importance of these injuries and the right of parents to obtain legal compensation when they are caused by medical negligence. This page will outline the relevant West Virginia law for birth injuries.
Overview of Birth Injuries
Despite, the preventability of birth injuries, studies show that for every 1000 babies born in the U.S, five will be injured during birth. Some common types of practices that often result in preventable birth injuries are:
Common Birth Injuries in West Virginia
Immediate symptoms to determine common types of birth injury:
Seizures
Skull factures
Difficulty suckling, eating, swallowing
Arched back while crying
High pitched crying,
Light sensitivity
Lethargy
Nausea, vomiting
Excessive fussiness for no apparent reason
Excessive drooling
Sensitivity to light
West Virginia Statute of Limitations for Birth Injuries
When filing a birth jury claim in West Virginia, claimants must be aware of the statute of limitations. A statute of limitations is a state law that requires a person to file a claim within a certain amount of time. In West Virginia, the general statute of limitation for birth injuries is two years since the injury or when the claimant knows or by reasonable diligence should have known the injury. However, the mere ignorance of the existence of a cause of action does not prevent the running of the statute of limitations.
Damage Caps on Birth Injuries in West Virginia
Generally, there are three types of recoverable damages in birth injury cases: (1) economic damages, (2) non-economic damages, and (3)punitive damages.
West Virginia is a state that imposes caps or limits on damages an injured person can recover. Although, there are no caps on economic damages, both non-economic and punitive damages have strict limits. The maximum amount recoverable for non-economic damages is $250,000 per occurrence. West Virginia Code section 55-7B-8.
There are certain exceptions to these damage caps. One major exception applies in cases involving death, permanent disfigurement, loss of a limb or organ, or permanent disability. When these special circumstances are present the damage cap increases to $500,000 for each occurrence. West Virginia also has a cap on punitive damages. Punitive damages in West Virginia are capped at 4 times the amount of compensatory damages or $500,000, whichever is more. West Virginia Code Section 55-7-29.
Wrongful Life and Wrongful Birth Claims
A cause of action for wrongful birth is recognized in West Virginia. Wrongful birth claims are based on a parents' claim that the physician failed to advise the parents of the existence of a condition indicating that their child may have birth defects. The theory is that this failure prevents the parents from making an informed decision with regard to not conceiving a child or, in the event of pregnancy, to terminate the same. (James v. Caserta). In a West Virginia wrongful birth action, parents may recover the extraordinary costs for rearing a child with birth defects not only during his minority, but also after the child reaches the age of majority if the child is unable to support himself because of physical or emotional disabilities.
However, a claim for wrongful life does not currently exist in West Virginia. Wrongful life claims are brought on behalf of a child who is born with birth defects. The theory behind this is that if the mistake or negligence had not occurred, the plaintiff would not be born as a defected child. Many jurisdiction reject this cause of action including West Virginia.
Simms v. United States of America (West Virginia 2015) $12 million: Adult plaintiff suffered mental anguish and emotional distress and brought a wrongful action against defendant. She alleged that she received negligent prenatal care from a clinic. When plaintiff was 18 weeks pregnant, physician referred her to a perinatal specialist after seeing abnormalities in the ultrasound. The clinic failed to schedule the plaintiff's appointment with the perinatal specialist and failed to inform her of the abnormal ultrasound results. During her third trimester of pregnancy, the plaintiff learned for the first time that her child might have hydrocephaly. By the time she learned of her child's condition, it was too late to terminate. Plaintiff's son was born with poorly formed brain stem and remained in vegetative state after his birth. The plaintiff claimed the defendant violated the standard of care by failing to advise her about the abnormal findings, failing to make the appointment, and failing to follow up. The plaintiff was awarded 12 million dollars on damages.
Value of Birth Injury Lawsuits in West Virginia
There are hundreds of medical malpractice and birth injury lawsuits filed in West Virginia every year. Below are some recent birth injury settlements and jury verdicts in West Virginia.
Hysell v. United States (West Virginia 2020) $10.8 million: A newborn suffered hypoxia at a federally funded hospital. She developed cerebral palsy. The girl experienced developmental delays. Her parents alleged negligence against the federally funded hospital. They claimed its staff failed to timely deliver her and address fetal distress. The jury awarded the family $10.8 million.
Jackson v. United States (West Virginia 2016) $8.5 million: A newborn boy suffered hypoxic-ischemic encephalopathy at a federally funded hospital. He developed spastic quadriplegia, seizures, and cortical blindness. The boy required a feeding tube. His mother alleged negligence against the federal government. She claimed its staff negligently administered Pitocin, improperly monitored her son's condition, and failed to timely perform a C-section. This case settled for $8.5 million.
R.J. Pauley v. United States (West Virginia 2014) $850,000: infant plaintiff sustained hypoxic ischemic encephalopathy during the labor and delivery leading to her birth. The mother on behalf of the plaintiff alleged the injury was a result of delay in her delivery. The plaintiff claimed that the defendant was careless, reckless, and negligent in failing to recognize and act on the abnormal fetal monitoring strips, failing to consult a physician for evaluation and assessment, failing to recognize the need for caesarean section, and failure to adequately supervise. The defendant denied liability. The court approved an $850,000 settlement for the benefit of the plaintiff.
Hussing v. West Virginia University Hospitals (West Virginia 2002) $575,000: male infant suffered to brachial plexus injury that resulted in Erb's palsy during his delivery at the defendant's hospital. The plaintiff contended that the defendant failed to provide an adequate staff with the skill and knowledge necessary to properly asset with the delivery, and that its nonparty staff failed to timely perform a cesarean section and failed to provide the proper standard of care. The defendant denied liability and contended that the proper standard of care was provided at all times. The total verdict for the plaintiff was $575,000.
Hill v. Laird Foundation Inc. (West Virginia 1988) $241,000: plaintiff suffered retrolental fibroplasia which resulted in blindness after being administered excessive oxygen following her premature birth. The defendant had placed the plaintiff in an isolette, where she received 40 percent oxygen for eight days. The plaintiff was diagnosed as being blind in an eye examination at the age of two. The plaintiff contended that the defendant pediatrician ordered excessive oxygen and that the defendant hospital provided substandard care. The case was settled for $241,000 for the benefit of the plaintiff.
Contact Miller & Zois About West Virginia Birth Injury Cases
Contact Miller & Zois today for a free consultation about potential birth injury malpractice cases in West Virginia. Call us at 800-553-8082 or get a free online consultation.