Grady Memorial Hospital Malpractice Claims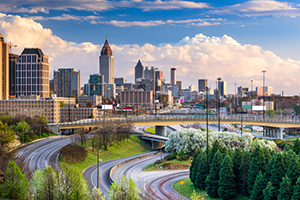 Grady Memorial Hospital is the primary public hospital for the city of Atlanta. Grady is the largest hospital in Atlanta and the 5th largest public hospitals in the entire U.S. with just under 1,000 staffed beds. Grady handles a staggering 700,000 inpatient admissions every year, making it one of the busiest hospitals in the country as well.
Grady Hospital first opened its doors back in 1892 and was named after Henry Grady, owner of the Atlanta Constitution and local politician. From its very beginning, Grady was intended to serve as a hospital for Atlanta's poor and underserved population. That mission continues to guide the hospital today. Grady provides an estimated $300 million in charitable care each year and most of the hospital's revenue comes from Medicare and Medicaid reimbursement.
Since 2008, Grady has been administered by a newly created non-profit corporation with a 17-member board that makes all final decisions. Grady receives financial support from charitable donations and the City of Atlanta and DeKalb County. This corporate structure is similar to many other public hospitals and has no impact on Grady's ability or willingness to settle and pay medical malpractice claims.
Grady Ranks Low for Patient Safety and Quality of Care
Although Grady is a well-respected hospital and has many prominent doctors, it consistently ranks very low for patient safety and quality of care. Grady consistently earns patient safety and care grades of C or lower from hospital watchdog group Leapfrog. This is one of the lowest grades for any hospital in Atlanta. Grady's low safety grades are partly a reflection of the hospital's commitment to serving unprivileged communities and charitable care.
Medical Malpractice at Grady Memorial Hospital
Medical malpractice is something that happens on a regular basis at large, high-volume, urban hospitals like Grady. Grady's unique size and focus on charitable care make medical malpractice claims even more common. The net result is that Grady gets named as a defendant in anywhere from 10 to 20 major medical malpractice cases each year.
As a general rule, hospitals like Grady prefer to settle valid medical malpractice cases quickly and confidentially. Grady and other hospitals are very concerned about protecting their public image and reputation. This often motivates Grady to settle malpractice claims rather than go to trial and risk the negative publicity of a big, headline-grabbing verdict. Moreover, Grady is self-insured so they have the ability to settle malpractice claims without approval from an insurance carrier or worrying about how a settlement might impact their insurance rates.
Notable Medical Malpractice Verdicts Against Grady Memorial Hospital:
Although Grady Memorial Hospital gets sued in medical malpractice cases all the time, finding jury verdicts, or publicly reported settlements against it is very difficult. This is mostly due to the fact Grady prefers to settle malpractice claims confidentially and avoid going to trial.
Merritt v Grady Memorial Hosp. $17,500,000 Verdict: plaintiff, a 19-year-old male, was admitted to Grady after being shot in the left cheek. During surgery, his breathing tube came out and he was deprived of oxygen for 8 minutes, resulting in major brain damage that left him severely disabled. He sued Grady and several of the doctors alleging that they were negligent in performing the surgery too soon, failing to properly restrain him, and failing to have proper intubation/extubation procedures in place. A jury in Atlanta awarded $17.5 million which was split 50/50 between Grady and the doctors.

Fletcher v Grady Memorial $625,000 Verdict: Wrongful death case in which a 52-year-old female died when she was improperly diagnosed and treated for diabetic ketoacidosis at the hospital. The decedent, who was a diabetic, presented with a stomach ache, ear pain, nausea, and breathing difficulties and a resident was called. The resident failed to examine the decedent and failed to suggest any treatment. A nurse tested the decedent's blood sugar the following day but failed to advise the attending physician of the results and the decedent subsequently died.

Ellison v. Grady Memorial Hosp. $1,500,000 Verdict: in this birth injury malpractice case, an infant was born with severe brain damage caused when he was deprived of oxygen during birth. The suit alleged that doctors and the hospital were negligent in failing to be prepared for an emergency C-section when complications arose during delivery.
Nash v. Grady Memorial Hospital $17,500,000 Verdict: In this case, a baby was awarded $17.5 million after he was born with severe brain damage due to a delay in performing a C-section. The baby's mother arrived at Grady Memorial Hospital in labor and was told that she would need a C-section. However, the C-section was not performed for several hours, and the baby suffered severe brain damage as a result.
Williams v. Grady Memorial Hospital $1,500,000 Verdict: In this case, a man was awarded $1.5 million after he developed bed sores while he was a patient at Grady Memorial Hospital. The man was paralyzed from the waist down and was unable to move himself. He was left in a bed for several days without being repositioned, and as a result, he developed severe bed sores.
Recent Malpractice Cases Against Grady:
Below are basic summaries of some recently filed or currently pending medical malpractice cases in which Grady Memorial Hospital was named as a defendant. These cases will give you an idea of the types of allegations and malpractice claims that are made in lawsuits against Grady.
Hood v Grady Memorial Hosp. (2020): case alleging patient at Grady suffered cardiac arrest due to a lack of proper post-operative nursing care and attention after tracheostomy. Grady defended by Eichelberger Law Firm.
Hickson v. Grady Memorial Hosp. (2020): the patient was involuntarily committed to the psych ward at Grady for mental health treatment. Doctor rescinded the order and allow patient to be release and he attempted suicide within several hours. Grady defended by Greenberg Taurig, LLP.
Williams v Grady Memorial Hosp., (2020): case alleging that Grady staff were negligent in failing to care for patient and reposition him, resulting in the development of bed sores. Defended by Ted Eichelberger.
Nash v Grady Memorial Hosp. (2020) birth injury malpractice case against Grady and OB/GYN alleging negligent delay in C-section resulted in oxygen loss and injuries to baby.
Defense Counsel for Grady Memorial Hospital
Grady Memorial Hospital uses Ted Eichelberger to defend most of its medical malpractice cases. Mr. Eichelberger is a partner at the Atlanta office of Alston & Bird. In some cases, however, Grady has used lawyers from the firm of Greenberg Taurig to defend its medical malpractice cases.
Appellate Cases Involving Grady Memorial Hospital
Edokpolor v. Grady Memorial Hospital, 819 S.E.2d 92 (Ga. App. 2018) – This case involved a wrongful death lawsuit against Grady Memorial Hospital Corporation. The plaintiff, the administrator of the estate of a patient who died while under the hospital's care, alleged that the hospital and its staff were negligent in failing to properly monitor and treat the patient's condition, which led to her death. The trial court granted summary judgment in favor of the hospital, finding that the plaintiff failed to establish a genuine issue of material fact as to the hospital's liability for the patient's death. The plaintiff appealed, arguing that the trial court erred in its application of the standard of care, and that there was evidence to support the claims of negligence.
Fletcher v. Grady Memorial Hospital, 286 Ga. App. 355, 649 S.E.2d 454 (2007) This case involved a plaintiff who was a diabetic patient that went to Grady Memorial Hospital with symptoms of a stomachache, ear pain, nausea, and breathing difficulties. Despite being called, the resident failed to examine the patient and suggest any treatment. After being discharged, Fletcher died a few days later from diabetic ketoacidosis.
His estate sued Grady Memorial Hospital for medical malpractice, but the trial court ruled in favor of the hospital. However, the Georgia Court of Appeals reversed the decision, ruling that the resident's failure to examine and suggest treatment could have been a deviation from the standard of care and caused his death.
This case is significant because it establishes that a doctor's failure to examine a patient and suggest any treatment can be considered medical malpractice. This ruling is a victory for patients and their families, and it serves as a warning to healthcare providers to take their patients' care seriously.
Contact Miller & Zois About Malpractice Cases Against Grady Memorial Hospital
If you have a medical malpractice case against Grady Memorial Hospital or Grady Health System in Atlanta, our medical malpractice attorneys can help. Our law firm handles malpractice and personal injury cases in Georgia by collaborating with local counsel. Call us at 800-553-8082 or contact us online.