Delaware Medical Malpractice Law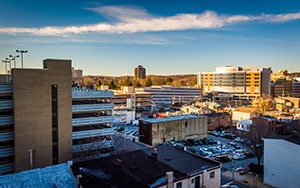 This page is about medical malpractice practice law in Delaware. Our lawyers also take a look at settlement compensation and jury payouts in medical malpractice lawsuits in Delaware.
Although Delaware is a comparatively small state, hundreds of medical malpractice cases get filed in Delaware's civil courts each year. Like all states, Delaware has its own unique rules and statutory laws governing the liability of medical professionals and the right of patients to sue them. Although Miller & Zois is based in Baltimore, our attorneys regularly handle cases in Delaware and consider it one of our local jurisdictions.
Anyone who is considering a medical malpractice lawsuit in Delaware should familiarize themselves with the state's malpractice laws because they can have a major impact on the value of your case or whether you have the right to sue at all. The two primary malpractice laws in Delaware that can impact prospective plaintiffs are: (1) the statute of limitations for malpractice claims; and (2) the affidavit of merit requirement.
What is the Delaware Statute of Limitations on Medical Malpractice Cases?
Medical malpractice claims in Delaware are subject to a 2-year statute of limitations (Del. Code § 6856). In contrast to most other states, Delaware does not follow the "discovery rule" for determining when the limitation period begins. This means that Delaware's 2-year deadline starts on the date that the alleged medical malpractice occurs (not when it was reasonably discovered).
In circumstances where the medical error could not possibly have been discovered within 2 years, Delaware allows the limitations period to be extended by 1 year (Del. Code § 6856(1)).
This effectively means that the absolute maximum limitation period for any malpractice claim is 3 years. This makes Delaware's statute of limitations on malpractice claims one of the toughest in the country. If a claim is not filed within 3 years from the date of the injury, it is completely barred, regardless of whether the malpractice could have been discovered or not.
This can have some harsh results. Delaware's highest court has repeatedly ruled that even if an injury from malpractice is "inherently unknowable" or could not possibly have been discovered within the 2 or 3 year limits, the statute of limitations still applies and the claim is barred if not filed within 3 years. Cole v Delaware League for Planned Parenthood, 530 A.2d 1119 (Del 1980).
There are only two limited exceptions to this 3-year max limitation on Delaware malpractice claims: (1) fraud; and (2) minority. The fraud exception applies if it can be shown that the doctor intentionally concealed the malpractice or prevented the plaintiff from discovering it (e.g., destroying medical records; lying about what happened, etc.).
In this situation the limitations period can be "tolled" until the fraudulent concealment is overcome. The minority exception is applicable in cases where plaintiff is a child at the time of the injury.
What is the Delaware's Affidavit of Merit Requirement in Medical Malpractice Cases?
In order to file a medical malpractice lawsuit in Delaware, the plaintiff must first get an "affidavit of merit" from a qualified expert (Del. Code § 6853). If a malpractice lawsuit is not supported by an affidavit of merit it will be automatically dismissed.
The affidavit of merit is basically a written statement from a qualified expert witness (i.e., another doctor of the same specialty as the defendant) which certifies that the plaintiff has "reasonable grounds" for his or her malpractice claims. This means that just to file a malpractice lawsuit in Delaware, a plaintiff first has to get another doctor to review the case and confirm that the doctors were negligent.
This procedural requirement is designed to prevent the filing of frivolous medical malpractice lawsuits. Most states have enacted very similar requirements for medical malpractice claims.
Pre-Suit Notice Requirement in Delaware
In order to bring a medical malpractice lawsuit in Delaware, the patient must first provide the healthcare provider with notice of the claim and an opportunity to settle the matter before filing a lawsuit. This is known as the pre-suit notice requirement.
This notice may extend the statute of limitations. Under the Delaware's Medical Negligence Act (18 Del. C. §6801, et seq.), the filing of proper notice allows a plaintiff to toll the statute of limitations for up to 90 days. The Notice of Intent must go to every potential defendant by certified mail with a return receipt requested, to the defendant's regular place of business.
The Notice of Intent must contain: (1) the name of the potential defendants; (2) the potential plaintiffs; and (3) a brief description of the allegations of negligence plaintiff's medical malpractice lawyer is investigating.
Is There a Cap on Damages for Medical Malpractice in Delaware?
Many states have enacted limits on the maximum amount of damages that can be awarded in malpractice lawsuits. However, Delaware has not adopted any damage caps. This is no limit on the amount of damages that can be awarded to plaintiffs in Delaware medical malpractice cases.
Informed Consent Law in Delaware
In Delaware, informed consent is a legal requirement for medical procedures and treatments. It means that a patient must be fully informed of the potential risks, benefits, and alternatives to a procedure or treatment, and must provide their voluntary agreement to proceed before it can be performed.
The informed consent process is intended to protect a patient's autonomy and ensure that they make informed decisions about their own health care. The laws governing informed consent in Delaware, unlike most stats, can be found in the state's medical practice act.
Section 6801(6) of Title 18 defines "informed consent" as the consent a patient gives once the patient has been informed of the "risks and alternatives to treatment or diagnosis which a reasonable patient would consider material to the decision whether to undergo the treatment or diagnosis. The District Court of Delaware has said that the purpose of Delaware's informed consent law is to ensure that "every patient has the right and responsibility to determine whether to take the risk of the [the treatment]. Doctors can make recommendations and the patient is free to accept or reject a doctor's recommendation. But the patient has to be given the information to make the choice.
Under the statute - § 6852 Informed Consent - the healthcare provider must explain the nature and purpose of the procedure or treatment, its potential risks and benefits, any alternatives to the procedure or treatment, and any other information that a reasonable person would want to know in order to make an informed decision.
In some cases, informed consent may be obtained through a written document that the patient signs. However, informed consent is not just a formality – it is an ongoing process that should be based on a conversation between the patient and the healthcare provider. The patient must be given an opportunity to ask questions, express concerns, and receive answers before making a decision about whether to proceed with the procedure or treatment.
Litigating Medical Malpractice Cases in Delaware
In Delaware getting a medical malpractice lawsuit in the correct venue can make a huge difference for the plaintiff. Medical malpractice cases in Delaware are handled by the Superior Court. Delaware has only 3 counties (Newcastle, Kent and Sussex) each with its own separate Superior Court. If you a bringing a medical malpractice suit (or any type of injury case) you want your case in Newcastle County at all costs.
Newcastle County is in the northern part of the state and includes the Wilmington area. This is a densely populated, urban, politically liberal area that is generally very plaintiff friendly. By contrast, Kent and Sussex counties are largely rural with much more conservative juries pools.
Verdicts and Settlements
Below are summaries of actual verdicts and publicly reported settlements from Delaware medical malpractice lawsuits. This page may look old but we updated this page in 2023. The reality is not many Delaware medical malpractice lawsuits go to trial.
TS v Williams (Delaware 2018): Plaintiff, 5-year-old girl, presents to a Nanticoke Hospital in Seaford with pain in her ankle. Emergency room doctors exam her and diagnose strep throat and an ankle sprain. Five days later she is back at the hospital for x-rays of her ankle and the radiologist finds only a small ankle fracture. A week later plaintiff is back at the hospital again for more extensive testing. This time she is diagnosed with a rare but very serious bone infection called osteomyelitis. The untreated infection damages her growth plate, and she has to undergo four separate surgeries leaving one leg significantly shorted than the other. She sues the ER doctors and hospital for negligently failing to diagnose her bone infection in her earlier visits. The case settles for $400,000.
Broughton v. Wong

(Delaware 2017)

: This is an excessive force during delivery claim. An obstetrician with Dedicated to Women OB-GYN in Dover used excessive force causing a shoulder dystocia/brachial plexus injury. The mother had gestational diabetes which requires extra care. The doctor used excessive force, pulling the baby's head and neck area to free a stuck shoulder. The child's mother hired a Delaware birth injury lawyer who was able to obtain a $3 million verdict. Sadly, the lawyer entered in a high-low before trial which capped the verdict at $750,000.
Rodriguez v Bayhealth Medical (Delaware 2016) $2,850,000: Plaintiff, 15-year-old female, undergoes spinal fusion surgery at defendant Bayhealth Hospital in Dover. After the surgery plaintiff develops a spinal cord infarct which causes permanent paralysis and leaves her confined to a wheelchair. She sues the hospital and doctors for malpractice claiming that injury was caused by negligent post-operative care. Defendants denies any negligence and the case is submitted to mediation where it is settled for $2.8 million.
Haas v Boyle (Delaware 2015) $374,000: Female patient in her late 60s goes to defendant hospital with complaints of chest pain and is diagnosed with myocardial infarction. A few hours later she undergoes a heart cauterization performed by defendant cardiologist. Something goes wrong during the procedure and patient suffers serious myocardial damage which causes heart failure. She is evaluated for a heart transplant but dies soon after. Her estate sues the hospital and cardiologist alleging that they negligently failed to provide enough anticoagulation before and during the cauterization procedure. The jury finds that the cardiologist was not negligence but that the hospital and its staff were negligent and awards $374,000.
Melding v Amato (Delaware 2012) $1,050,000: An 86-year-old male patient goes to defendant primary care doctors with complaints of head and neck pain after hitting the back of his head. Soon after he dies from complications related to a subdural hematoma (brain bleed). His estate brings a wrongful death suit claiming that the doctors were negligent in failing to order immediate diagnostic testing and delaying treatment. Doctors deny wrongdoing but jury in New Castle County awards $1 million in damages.
Edney v Moylan (Delaware 2012) $1,052,000: Adult female plaintiff sues her OB/GYN for a two-year delay in diagnosis of uterine cancer. Plaintiff alleged that the OB/GYN breached the standard of care by failing to perform a dilation and curettage procedure after a biopsy indicated hyperplasia. This failure allegedly allowed the cancer to progress from stage I to stage III by the time it was eventually diagnosed. As a result, plaintiff had to undergo more extensive treatments and her chances of survival were greatly reduced. Defendant OB/GYN denied wrongdoing and claimed that the D&C was not called for. The case went to trial in Newcastle County, and they jury awarded a $1 million payout.
Contact Us About Delaware Medical Malpractice
If you have a potential medical malpractice case in Delaware, call our attorneys today at 800-553-8082 for a free consultation or contact us online.