Christiana Hospital Medical Malpractice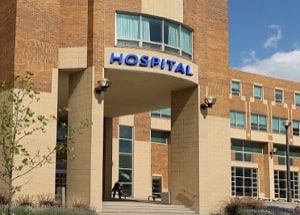 Christiana Health Care System is the largest hospital healthcare system in Delaware. Based in Wilmington, DE, Christian Health Care operates 2 private hospitals: Christiana Hospital and Wilmington Hospital. Christiana also operates a host of outpatient and other healthcare facilities in the Delaware area including the Helen F. Graham Cancer Center, the Center for Heart & Vascular Health, and the Eugene du Pont Preventive Medicine & Rehabilitation Center.
History of Christian Health Care System
What is now Christiana Health Care System originally began as Delaware Hospital which opened in Wilmington in 1890. After decades of growth and expansion, Delaware Hospital merged with Wilmington General Hospital and Memorial Hospital and became Wilmington Medical Center. Each of the 3 hospitals operated as a separate "division."
In the 1980s the Wilmington General and Memorial Hospital divisions were closed and replaced with a massive new flagship facility in Newark, Christiana Hospital. Soon after the original Delaware Hospital was renamed Wilmington Hospital and Wilmington Medical Center became Christiana Health Care System.
Christiana Health Care system ranks as the 11th largest hospital system on the East Coast. Christiana's 2 hospitals admit more than 60,000 patients and deliver over 7,000 babies each year. Christiana Health Care's various other facilities see about 500,000 outpatients annually.
Christiana Hospital
Christiana Hospital is the biggest and most advanced hospital in Delaware and it is the flagship of the Christiana Health Care System. Located just outside Wilmington in Newark, Christiana Hospital is over 1 million square feet and has 900 patient beds. Christiana Hospital has the only Level I trauma center in the state so it handles the most serious accidents and emergencies. Christiana is also the only hospital in Delaware with a Level III neonatal intensive care unit.
Wilmington Hospital
The other hospital in the Christiana Health Care System is Wilmington Hospital. Located in downtown Wilmington (on the site of the original Delaware Hospital), Wilmington Hospital is a 300-bed facility with a busy emergency room. It is also the location of Christiana Health Care's inpatient rehab facility and the Center for Advanced Joint Replacement.
Christiana Health Care Malpractice Claims
All large, high volume hospital systems regularly get sued for medical malpractice and Christiana Health Care System is certainly no exception to this. With 500,000 outpatient visits, 7,000 deliveries, and 50,000 inpatient hospital admissions, Christiana Healthcare System is probably named as a defendant in about 50 or more medical malpractice lawsuits each year. Most malpractice lawsuits against Christiana Health Care are based on negligent treatment by doctors or nurses that are employees of Christiana.
Large hospital systems like Christiana Health Care are more likely to settle medical malpractice lawsuits than individual doctors. This is primarily because hospitals like Christiana are self-insured and don't care about their malpractice insurance rates going up. Instead, hospitals like Christiana are more concerned with avoiding the negative attention of malpractice suit and protecting the hospital's reputation. As a result, they tend to settle claims quickly and confidentially.
Verdicts and Settlements
Below are summaries of verdicts and publicly reported settlements from actual malpractice lawsuits filed against Christiana Health Care System or its hospitals. Keep in mind that these cases only represent a very limited sample of all malpractice claims against Christiana Health Care. Like most hospital systems, Christiana tends to settle many malpractice claims quickly and confidentially so we never learn about them. In many cases, Christiana Health Care is just one of a group of named defendants in the malpractice lawsuit and liability is ultimately split between the hospital and the doctors.
2015 - Medication Error $374,000: Nursing staff at Christiana Hospital was accused of negligently failing to timely and appropriately provide anticoagulation meds to the patient during heart catheterization. As a result, the 68-year-old patient suffered myocardial damage during catheterization procedure and eventually died. The case went to trial in Newcastle County and the jury found that the hospital nursing staff were negligent and awarded $374,000.
2014 - Unnecessary Surgery $3,800,000: Plaintiff went to Christiana Hospital after a very bad fall which damaged his spleen and chest wall. The doctor inserted 2 On-Q catheters in plaintiff for continuous pain management. 2 days later the plaintiff was back at the hospital because the On-Q catheters had gone through tissue and damaged nearby organs. It was later discovered that the doctor had a financial interest in the On-Q catheters and his decision to use them on plaintiff was motivated by personal gain not to benefit to the patient. The jury awarded $3.75 million in damages.
2012 - Unnecessary Surgery $500,000: After successful C-section delivery of her baby at Christiana Hospital, a 32-year-old female plaintiff suffered post-cesarean vaginal bleeding and hemorrhage. The doctor responded by performing an emergency hysterectomy which stopped the bleeding but rendered plaintiff unable to bear children. Plaintiff sued Christiana Health Care alleging that the hysterectomy was inappropriately performed before exhausting other measures. The jury awarded $500,000 in damages.
Contact Miller & Zois About Christiana Health Care Malpractice
If you have a medical malpractice claim against Christiana Health Care or one of its hospitals, the Delaware malpractice lawyers at Miller & Zois can help. Contact us at 800-553-8082 or reach out to us online.