Value of Minnesota Birth Injury Cases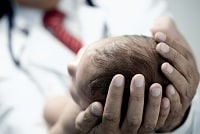 Birth injury malpractice lawsuits can be very high value cases. Typically the potential value of a malpractice is driven by 2 factors: (1) the severity and permanency of the alleged injuries; and (2) the nature of the medical negligence and how difficult it will be to prove at trial. The more severe and permanent the injury the higher the potential value of the case will be. Birth injuries frequently involve damage to the baby's brain from oxygen deprivation. Infant brain injuries during childbirth such as HIE are often very severe in nature. Moreover, damage to the brain during pregnancy or childbirth is always permanent. Once cells in the brain die they cannot regenerate.
Neurologic birth injuries result in permanent physical and mental disabilities such as cerebral palsy. When a child is born with something like cerebral palsy, they may require a lifetime of medical care, living assistance, special education, and mobility devices. Many kids with cerebral palsy are not able to walk on their own and require orthotic crutches or electric wheelchairs. The physical movement disorders with many types of cerebral palsy and other birth injuries can also involve chronic pain and co-occurring conditions such as epilepsy.
Almost half of children diagnosed with cerebral palsy will also suffer from various degrees of cognitive impairment and developmental delays. A child born with a severe case of cerebral palsy, or other common birth injuries will never have a full, normal life. This is why the value of birth injury malpractice cases can be so high. In states like Minnesota, the values can be even higher because there are no legal maximums or caps imposed on the amount of damages plaintiffs can get.
Minnesota Birth Injury Settlements & Verdicts
Below are several verdicts and reported settlements from birth injury malpractice cases in Minnesota. Do these cases tell you what the settlement value is of your Minnesota birth injury case? Of course not. But they are instructive along with other settlement determination tools to better understand the potential range of values for you and your child's claim.
Niemela v. Wadena Medical Center Ltd (Minnesota 2019) $62K: A newborn suffered a brachial plexus injury, hypoxic-ischemic encephalopathy, and respiratory failure. He developed seizures. The boy's parents alleged negligence against the hospital. They claimed they negligently prolonged the labor, failed to timely respond to fetal distress, failed to suggest a C-section, and improperly performed a vacuum-assisted delivery. The parents further claimed that staff failed to timely intubate him, correctly treat his seizures, and timely transfer him to a NICU. A Wadena County jury awarded the family $62,000.
Samuelson v. Alina Health Care Systems (Minnesota 2018) $8.98 million: A newborn boy suffered a brachial plexus injury. He was left with right arm paralysis. His mother alleged negligence against the nurse-midwife. She claimed he failed to treat her gestational diabetes, failed to order a C-section, and used excessive force after discovering shoulder dystocia. A Hennepin County jury awarded an $8.98 million verdict.
Rodgers v. Affiliated Cmty. Med.Ctrs (Minnesota 2017) $23 million: Woman is admitted to hospital for induction of labor. After couple of hours, she is started on Pitocin to cause her uterus to contract. The heart rate of the fetus fell below normal range and was soon delivered by Cesarean section. The newborn was not breathing when she was delivered and required resuscitation. The newborn sustained unspecified catastrophic injuries and was permanently disabled. The parents sue the hospital for negligence in failing to exercise the degree of skill, care, and diligence of reasonable ordinary members of the medical profession in their locale. The jury found the hospital negligent in care and treatment of the mother and baby and awards 23 million dollars.
Davis v. Aspen Med. Group (Minnesota 2006) $15.5 million: woman is admitted to a hospital to deliver her unborn child. The next morning, her child was born via a vaginal delivery. There were complications and following his birth, the newborn was diagnosed with hypoxic-ischemic encephalopathy and severe asphyxia, which resulted in severe health problems, including cerebral palsy and spastic quadriparesis. On behalf of her child, the mother sues the doctor, his practice, and the hospital and its staff. She alleges that the physician failed to properly monitor her and her fetus and the hospital failed to properly train the nurses and doctors. The jury awards her 15.5 million dollars in damages.
Sheldon v. Goerish (Minnesota 2008) $975K: woman goes to hospital to deliver her child. During the vaginal delivery, the physician encounters shoulder dystocia with the newborn. Her newborn's arm appeared flaccid after delivery. She claimed her newborn sustained a brachial plexus injury. She filed a lawsuit against the physician and hospital alleging that defendants failed to adequately treat and/or prevent the shoulder dystocia. The jury found that the physician was negligent in her care and treatment and awarded $975K in damages.
D.M v. St.Mary's Duluth Clinic Health Sys. (Minnesota 2008) $500K: woman gives birth to newborn just under 25 weeks gestation. A physician placed a right radial artery line which was discontinued coupled days later. Another physician attempted a right radial artery cannulation and left tibia artery cannulation without success. A few days a consulting plastic surgery consultation took place and the surgeon was unable to detect a pulse in the arch or radial or ulnar arteries, and believed the newborn suffered from probable thrombosis or occlusion of his radial and ulnar arteries with an ischemic hand. All of the digits on the newborn's right hand were amputated because they reportedly could not be saved. Parents of the baby filed a lawsuit against the hospital, the physicians, and nurses for negligence. The plaintiffs settled the matter for $500K.
Contact Miller & Zois about the Value of Minnesota Birth Injury Claims
Miller & Zois handles birth injury claims all across the country. If you have a birth injury case call us today at 800-553-8082 or get a free consultation online.